Nollywood actor Kola Oyewo loses wife
Popular Nigerian actor, Kola Oyewo, is reportedly mourning after he lost his wife, Benedicta.
The thespian's better half was said to have kicked the bucket on October 11, 2020, to the dismay of many.
Not a lot of details are known about the film star's great loss, according to Yorubamoviegist.com. Kola Oyewo is one Nollywood actor who has made his mark in the Yoruba film industry. He had earlier spoken on how he did not form his own theatre company because he didn't want to have to marry more than one wife.
Source: Legit
LG chairmanship aspirant escapes assassination in Abia
A chairmanship aspirant in Isiala Ngwa South Local Government election in the December 18 polls in Abia state, Mr Paul Okpanku, has escaped assassination. Okpanku, who is a former deputy chairman of Isiala Ngwa South council, is contesting on the platform of the ruling Peoples Democratic Party, PDP.
He was said to have been trailed by the gunmen on his way home from a meeting. Police sources told Vanguard that the yet to be identified gunmen overtook the aspirant as he turned off from the Enugu –Port Harcourt expressway to his village.
"The gunmen appear to have trailed him from a distance without him being aware. They overtook him as he veered off from the expressway, shot at the front and passenger sides of his Toyota Sienna bus.
Source: Vanguard
'They Are Same Murderers' – Nigerians Reacts As IGP Replaces SARS With SWAT
Earlier, it was reported that Mohammed Adamu, the Inspector General of Police (IGP), on Tuesday set up a new tactical unit to replace the disbanded Special Anti-Robbery Squad (SARS). In a statement by the Force spokesman, Frank Mba, the new unit is named Special Weapons and Tactics Team – (SWAT).
IGP also directed all operatives of the now-defunct SARS to report at the Force Head Quarters in Abuja for debriefing, psychological and medical examination. Meanwhile, Nigerians have taken to Twitter to react to the development. Read reactions below:
Why are they changing the username instead of deleting the account?!!!
Nobody asked you to change SARS to SWAT!!! Oga delete it!😡#SarsMustGoNow #SARSMUSTEND #EndSWAT
— Crackheadextra (@crackheadXtra) October 13, 2020
From NEPA to PHCN nothing changed, from SARS to SWAT I doubt anything will change.
We need a reform asap!!#SARSMUSTENDNOW
— Ahmed Musa (@ahmedmusa_00) October 13, 2020
They want to change name as usual from SARS to SWAT.
They want to KEEP the same MURDERERS in the so-called new unit SWAT claiming that they will undergo psychological assessments & training.
Can you see that the Govt doesn't care about your lives, safety, growth & well-being? https://t.co/AtR0M20nrK
— COURAGE or nothing🦅 (@MomentsWithBren) October 13, 2020
Never let your sense of morals prevent you from doing what is right.
I'm super proud of my generation.
Source: NaijaNews
Things to know about new police unit 'SWAT'
The Inspector General of Police Mohammed Adamu has created a new unit known as Special Weapons and Tactics (SWAT) Team which will fill the gaps arising from the dissolution of the defunct SARS.
Last Sunday, he disbanded the Special Anti-Robbery Squad (SARS) due to alleged extra-judicial killings, wanton arrests and dispossession of property through physical assault and other intimidation tactics.
Here are things you need to know about the new unit:
1. Prospective members of this new team will undergo psychological and medical examination to ascertain their fitness and eligibility for the new assignment.
2. These members are to commence training at the different Police tactical training institutions nationwide, next week.
3. The training schedules are as follows;
A. Police Commands in the South-East and the South-South will be trained at the Counter-Terrorism College, Nonwa-Tai, Rivers State
B. Police Commands from the North will be trained at the Police Mobile Force Training College, Ende, Nasarawa State
Read Also: 'Disbanded SARS put us through hell'
C. Police Commands from the South-West will be trained at the Police Mobile Force Training College, Ila-Orangun, Osun State
4. The IGP ordered all operatives of the disbanded Special Anti-Robbery Squad (SARS) to report at the Force Headquarters, Abuja for debriefing, psychological and medical examination.
5. The medical examination will be carried out by the newly set-up Police Counselling and Support Unit (PCSU), a unit, which henceforth shall engage in psychological management, re-orientation and training of officers of the Force deployed for tactical operations and other duties.
6. The Police Counselling and Support Unit will consist of psychiatrists, psychologists, medics, pastors and imams, Public Relations practitioners, Civil Society and other Human Rights groups with relevant qualifications and expertise
Source: The Nation
Buhari Pays Tribute To Late JP Clark
President Muhammadu Buhari has, on behalf of the Federal Government, extended deepest condolence to the Clark-Fuludu Bekederemo family on the passing of renowned writer and Emeritus Professor of Literature, Prof John Pepper Clark.
According to a statement issued by Femi Adesina, Special Adviser to the President (Media & Publicity), in Abuja, on Tuesday, President Buhari paid tribute to "one of Nigeria's finest poets, dramatist and recipient of the Nigerian National Order of Merit Award for literary excellence, whose repertoire of published works depicts the hard work of a great man, devoted to a lifetime of writing, knowledge and promotion of the indigenous culture of the Ijaw nation."
It said while acknowledging that Prof JP Clark's exit has, indeed, left an indelible mark in the literary world, President Buhari took solace that his body of literary works, which earned him recognition and respect both at home and abroad, would continue to inspire upcoming Nigerian writers to pursue literary excellence and flourish in their chosen vocation.
Source: Tribune
Cristiano Ronaldo: Portugal and Juventus forward tests positive for coronavirus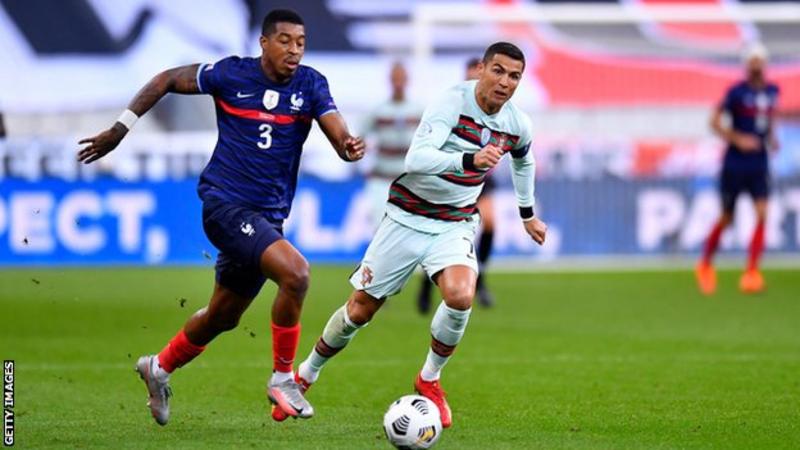 Portugal and Juventus forward Cristiano Ronaldo has tested positive for coronavirus, the Portuguese Football Federation (FPF) has announced. The 35-year-old is "doing well, without symptoms, and in isolation", the FPF said in a statement.
Portugal face Sweden in a Nations League group game on Wednesday. The remainder of Fernando Santos' Portugal squad have tested negative for Covid-19 and are available for selection. Portugal played out a 0-0 draw with France in Paris on Sunday and are top of the group, level on points with the world champions.
The Portugal captain became the first European to score 100 international goals in men's football when his side beat Sweden in the reverse Nations League fixture in September. As a result of his period of quarantine, Ronaldo is also set to miss Juventus' Serie A fixture at Crotone on 17 October and his side's opening Champions League group game against Dynamo Kiev on 20 October.
Source: BBC